Coast Bus service for tourists and campsites driving between
seaside towns Petten and Den Helder, also along Callantsoog.
Everyone can use the Coast Bus during the summer,
also disabled persons with a walker, wheelchair or guide dog.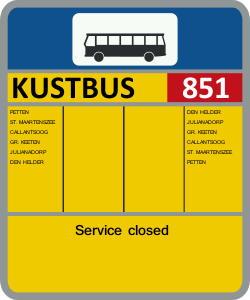 COAST BUS ROUTE
• Petten
• Sint Maartenszee
• Zwanenwater
• Callantsoog
• Groote Keeten
• Julianadorp aan Zee
• Den Helder Huisduinen
• Den Helder Northwest Hospitalgroup
• Den Helder Central Station
Reach The Beach with Coast Bus!